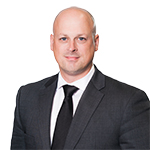 Michael Connolly, BA, CIP, CFEI - TEC Lead, Nova Scotia & Newfoundland
An Executive General Adjuster with over 20 years of industry experience, Michael Connolly is TEC Lead for Nova Scotia and Newfoundland. He brings extensive experience handling Large Complex Commercial and Liability losses to this role. Michael specializes in Heavy Equipment, Transportation, Inland Marine, Environmental, and Cargo as well as General Liability, Course of Construction/Builder's Risk, and Business Interruption.
Prior to joining ClaimsPro, Michael worked as a Senior Claims Examiner for a National Insurance Company, and previously as a Branch Manager and Senior Loss Adjuster for a Regional Adjusting Company. Michael has held several management positions during his time at ClaimsPro, and in addition to being TEC Lead for Nova Scotia & Newfoundland, he is also the District Manager for these same regions.
Michael holds Chartered Insurance Professional (CIP) and Certified Fire and Explosion Investigator (CFEI) designations and has training in Comprehensive Construction Risk Management and Statement Taking & Analysis. He is a Member of the Insurance Institute of Canada and is the Past President of the CIAA Nova Scotia Chapter.
---